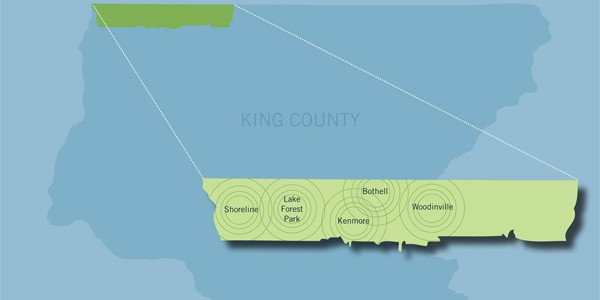 About
NUHSA advocates for human services in North King County (NKC) on behalf of its residents and the agencies that serve them. Although it is the smallest, and often forgotten, sub-region of King County, our communities are well-connected and in a position to address key community needs. NUHSA empowers these communities to meet the critical human service needs in our area and establish a sustainable system of social and health services for Bothell, Kenmore, Lake Forest Park, Shoreline and Woodinville residents.
The Need
Many in North King County live paycheck to paycheck and do not have sufficient funds to weather a temporary financial setback. With an average individual median income of $52,852, one in three households are cost burdened.
On average, half of renters in North King County spend more than 30% of their income on housing, leaving less money for other basic needs such as transportation and food.
In the Northshore and Shoreline School Districts, nearly 215 students are homeless, with 11.4% and 26.2% of families (respectively) considered low-income during the 2020-2021 school year.
Nearly 10% self-report their health status as poor or fair, with a similar number reporting frequent mental distress. 22% report no primary care provider.
NUHSA Responds
NUHSA advocates for North King County human service needs with regional and state decision makers.
NUHSA educates the community and decision makers about human service issues and problems.
NUHSA offers opportunities for human service organizations and supporters to connect and network.
NUHSA gathers timely and accurate information about human service issues.
*References:  2020 Census; King County City Health Profiles, Public Health Seattle King County; Washington State Office of Public Instruction; and Housing Development Consortium.